Top 5 Most Aggressive Manchester United Players Ever
The most aggressive Manchester United players ever? Most intimidating Manchester United players? Fearless Manchester United players? Tough Manchester United players? Here we are going to look at the top five most aggressive Manchester United players ever! Players like Wayne Rooney and Paul Scholes should come to mind when you think of aggressive Manchester United players. But which other Manchester United players were tough as nails?
Here, we will look at the most aggressive Manchester United players ever. This will be done based on purely their character and their playing style – but we will use stats such as red cards, tackles made, aerial duels if needed.
Top 5 Manchester United Most Aggressive Players
So here are the top 5 most aggressive Manchester United players ever –
5. Nemanja Vidic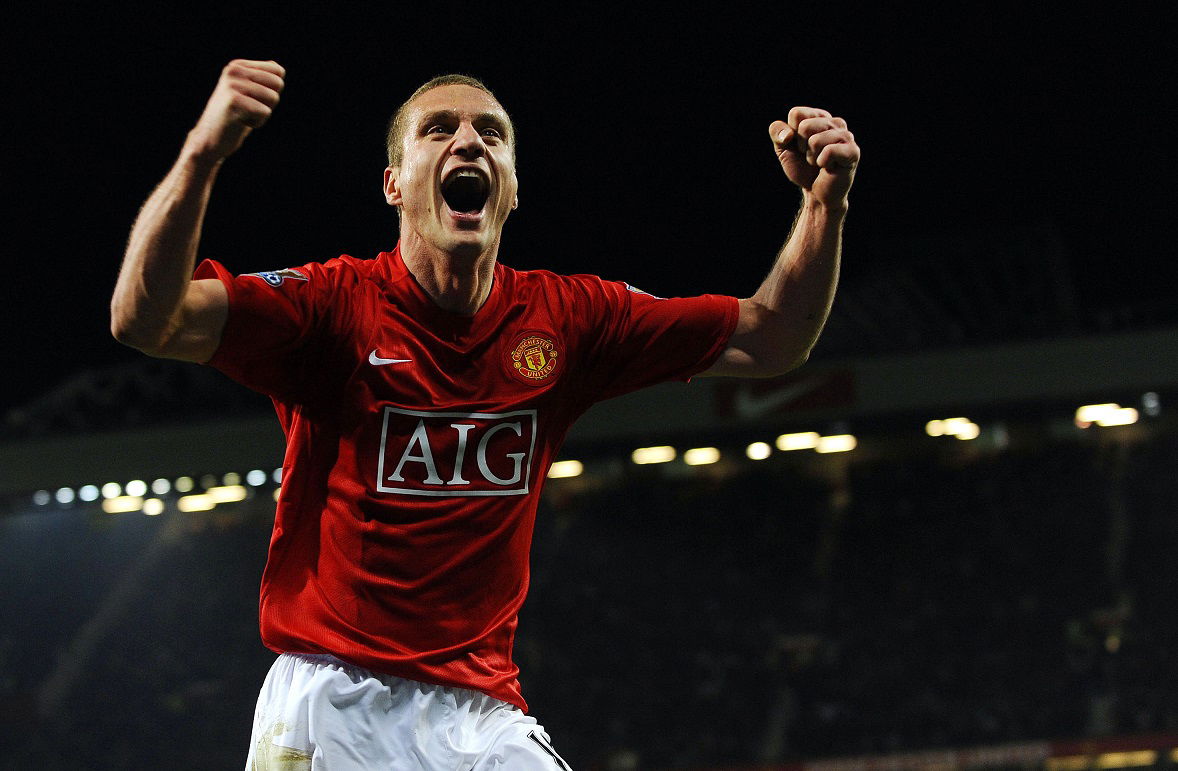 Vidic is hailed as one of the best, if not the best centre-back to have ever played for Manchester United in the Premier League era. One does not simply earn that title without lending out his fair share of rough and intimidating challenges on the pitch.
The Serbian amassed 300 appearances for the club, winning 5 league titles, 3 league cups, 1 Champions League trophy and 1 FIFA Club World Cup. He was the benchmark of resolute defending on a consistent basis and that was the reason why he never lost his starting spot with the Red Devils.
Vidic was an absolute rock in the middle of the United backline. He adhered to a no-nonsense style of play which complimented perfectly with Rio Ferdinand's ball-carrying abilities. The duo struck up a perfect partnership which was hard to break down. Vidic was never afraid to do the dirty work, including getting up on the face of an attacker simply to intimidate him.
4. Peter Schmeichel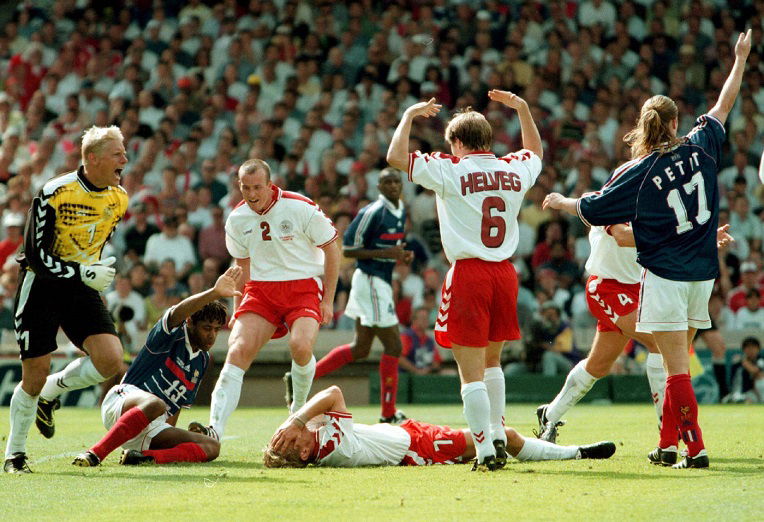 It may surprise some of you to see a goalkeeper included on this list but Peter Schmeichel made his name from scaring off opponents on a nightly basis. The Dane was a highly accomplished Premier League goalkeeper and one of United's very best in the club's entire history.
Like a certain German goalkeeper (Oliver Kahn), Schmeichel became famous for his fiery temper, never backing down from a confrontation. He would snap very easily at his defenders if one was found out of position even once. That particular sense of aggression is the reason why he was also such a great leader, captaining the United team during their most dominant run in the '90s.
3. Eric Cantona
Do you know a lot of footballers who has an entire compilation of their craziest moments on the pitch? Well, this particular Frenchman certainly does. Check it out!
http://https://www.youtube.com/watch?v=SV65GbNfgk0
Many would term Cantona's antics on the pitch during his playing career as that of an overgrown child. The former United striker was notorious for getting into conflicts every second game with opposition players, referees, fans, you name it. If there was a person who would annoy him the slightest bit, Cantona was ready to throw a punch.
His wildest moment might have been the kung-fu kick against a hooligan fan on 25 January 1995. The Frenchman lunged out at an abusive spectator on the sidelines of an away match against Crystal Palace. That incident pretty much ended his association with the France national team as he got banned for 8 months and fined several thousands of pounds. Many critics hit out at the striker wishing him to be deported from the country and to be banned from ever playing the sport professionally.
However, that was never enough to deter United fans, who shower him with love to this day. Cantona won the league title 4 times out of the 5 seasons he played for the Red Devils and the FA Cup twice.
2. Jaap Stam
Standing at 6 feet 3 inches, Jaap Stam was a scary-looking figure on the pitch. Pair that with his skinned head and his intimidating glare, most opposition players were immediately discouraged from taking a fight with him.
http://https://www.youtube.com/watch?v=blBUZV9v428
Teddy Sherringham once said, "He could pick you off with one arm and get the ball."
Stam was a huge hit at Old Trafford but he tarnished his name when he decided to go against Sir Alex Ferguson. At 29, he was suddenly sold off to Ajax which Fergie later admitted to regretting.
The defender was only just physically big but he had all the traits of an elite centre-half – quickness, intelligence, good passer and excellent intercepting abilities.
1. Roy Keane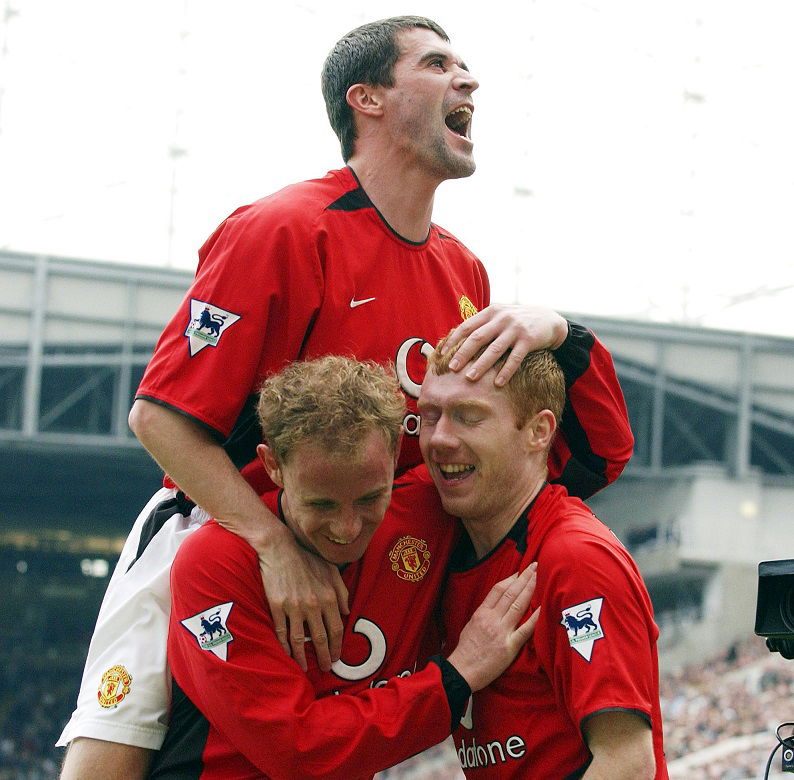 Roy Keane is originally the hardest man ever in world football, who was always ready to cross the line just to win a battle. Of course, not many would be surprised to hear that he was a young apprentice in boxing before he switched over to football.
Manchester United broke their transfer record to sign him in 1993 for £3.75m. Keane went one to become immensely successful at Old Trafford, almost immediately cementing his spot in the starting lineup. He was a giant brute in midfield, shouldering heavy defensive and playmaking responsibilities during United's most dominant period in English football.
The Irishman picked up yellow cards regularly and was popular for his controversial rants in public. But none of that compares to the brushing down he gave his teammates if they ever fell short in their responsibilities. Just ask Rio Ferdinand and Darren Fletcher.
Keane was also one of the central stories during United's intense rivalry with Arsenal. His constant tussles with Patrick Vieira along with his determination to winning made him a huge hit amongst the Old Trafford faithful. And of course, not to forget, the entire Alf-Inge Haland incident in 2001, which killed off a lot of the goodwill surrounding his name for good!
See Also: