Top 10 Worst Manchester United Signings!
Who are the top 10 Worst Manchester United Signings? Which Manchester United players have been the worst signings? Who are the top 10 Worst Manchester United Signings? Let's find out!
Here we will look at who are the Top 10 Worst Manchester United Signings. The price of the player, their contribution to the team, and their overall play will contribute to their ranking on this list.
Here we have a list for the 10 Worst Manchester United Signings!
There have been a lot of good signings that Manchester United have made but they have also signed some real flops! Recently Manchester United have made some pretty bad purchases – Marcos Rojo and Fred come to mind. So here we will look at who the Worst Manchester United Signings are.
Top 10 Worst Manchester United Signings
10. Massimo Taibi – Worst Manchester United Signings
A £4.5m signing from Venezia in 1999, the Italian shot-stopper registered only 4 appearances for United during which he conceded 11 goals, including a strike from Matt Le Tissier which simply rolled through his legs to the back of the net. It didn't take long for Alex Ferguson to find him a different home next season.
9. Marcos Rojo – Worst Manchester United Signings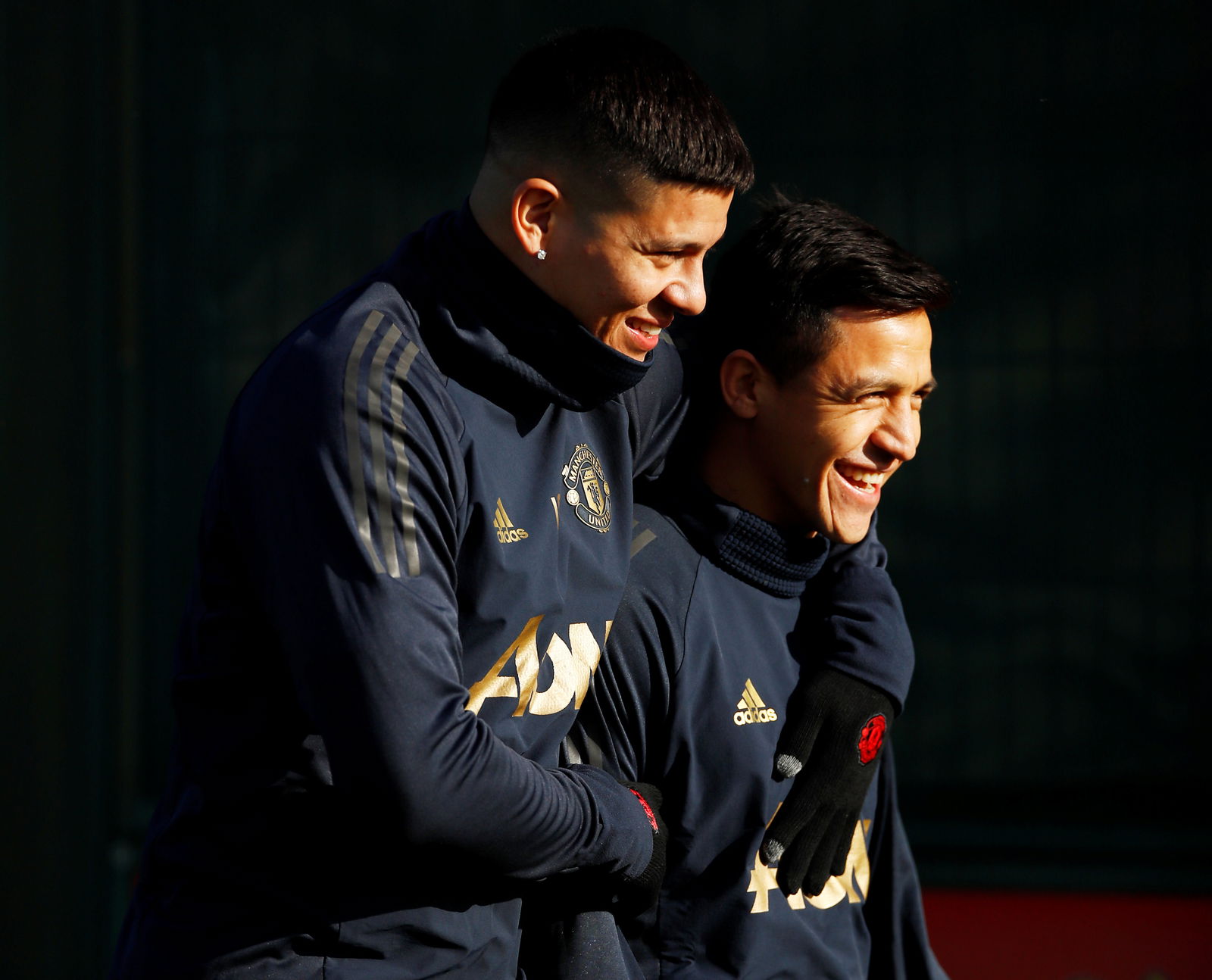 Marcos Rojo is one of the signings from the post-Alex Ferguson era at Manchester United which has been simply a disaster. The Argentine defender, who was a part of his country's final run in the 2014 FIFA World Cup greatly impressed Louis van Gaal to earn a €20m move to Old Trafford.
The 113 appearances he has so far recorded for United has been underwhelming to say the least. Rojo can hardly ever stay fit for a run of five straight games and yet, United chose to hand him an extension in 2018. With Harry Maguire coming in at a record fee, Rojo's time with the Red Devils is seemingly over. It is time for him to move on.
8. Zoran Tosic – Worst Manchester United Signings Ever
Zoran Tosic was pegged to become a future star for Manchester United when he signed in 2009 for around £7m.  He did become instrumental for the club but only for their reserve side.
Tosic only featured in 79 minutes for the senior side before he was eventually shipped out on loan. He enjoyed an impressive spell in the Bundesliga with Koln but could never really change Ferguson's mind.
7. Morgan Schneiderlin – Worst Manchester United Signings Ever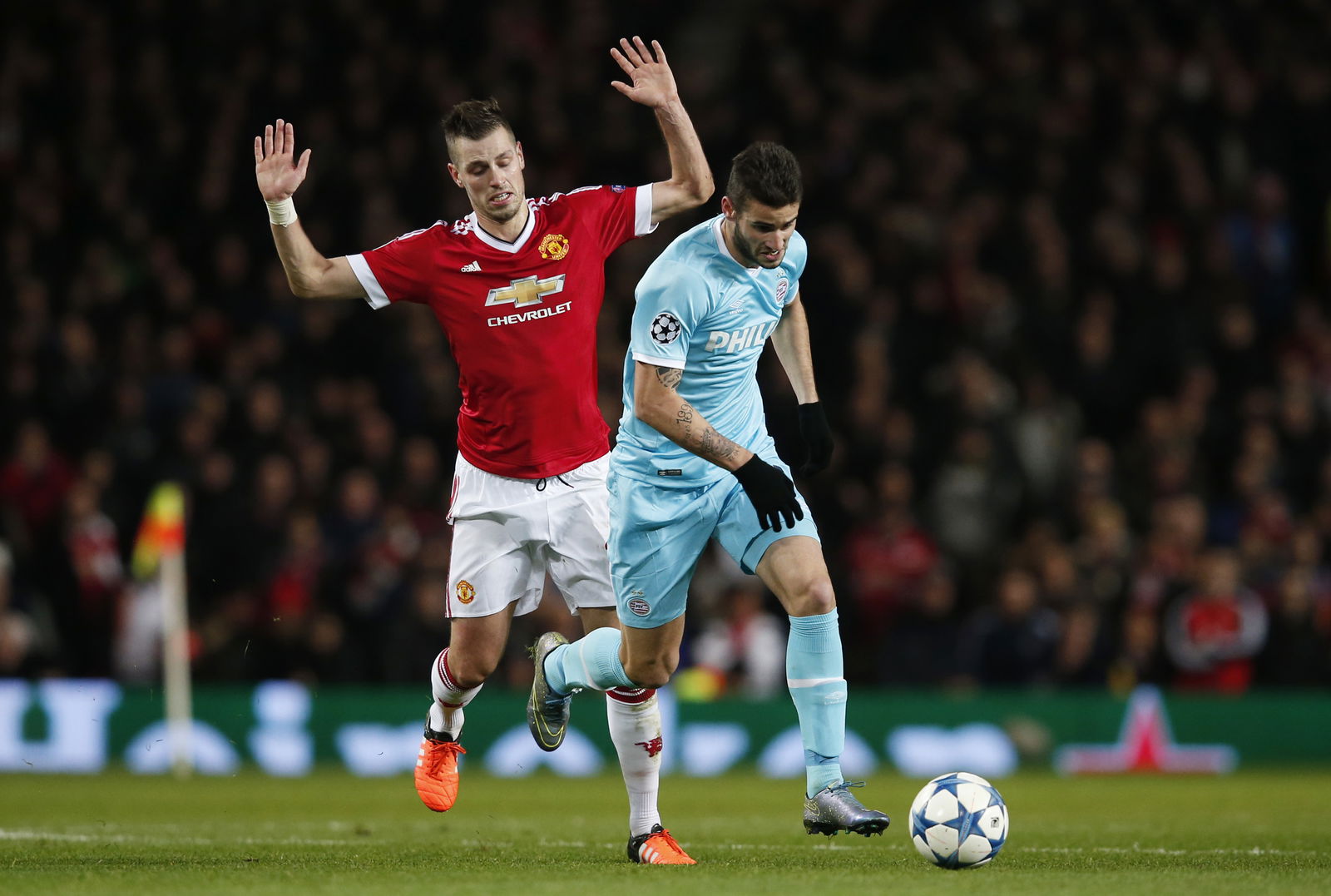 Morgan Schneiderlin is a part of the poor recruitment process Manchester United oversaw under Louis van Gaal. To be fair to the Dutchman, Schneiderlin really impressed with Southampton to warrant such a hyped-up move to the Red Devils.
The Frenchman carried them from the third tier of English football to the Premier League, even getting a callup to the national side for the 2016 UEFA Euro Cup. Unfortunately, the £25m switch to United did not prove to be fruitful as Schneiderlin only ever got to play in 32 games before being sold off to Everton.
6. Wilfried Zaha – Worst Manchester United Signings Ever
Wilfried Zaha was the last signing Sir Alex Ferguson ever made as the Red Devils manager and at the time, it seemed like a smart bit of business, acquiring him for £15m and stealing him away from all rival outfits, especially Arsenal.
But Zaha's debut campaign and his only one for United was not the most lucrative. He was involved in several controversies, including one with the David Moyes' daughter as he struggled to cope with the demands of the club. He was eventually sent back to Crystal Palace for a heavy loss.
5. Jose Kleberson – Worst Manchester United Signings Ever
Jose Kleberson was famously unveiled as the other Manchester United signing alongside Cristiano Ronaldo but both their careers took two completely different trajectories. Kleberson was a breakout star in the 2002 World Cup with Brazil and many clubs were interested in him. Eventually won the race for his signature, picking him to be Sebastian Veron's replacement only to find out that he was as disastrous as his predecessor.
Kleberson was only a shadow of the form he expressed with his national side and after two years and 30 disappointing appearances, he was shipped off to Besiktas.
4. Memphis Depay – Worst Manchester United Signings Ever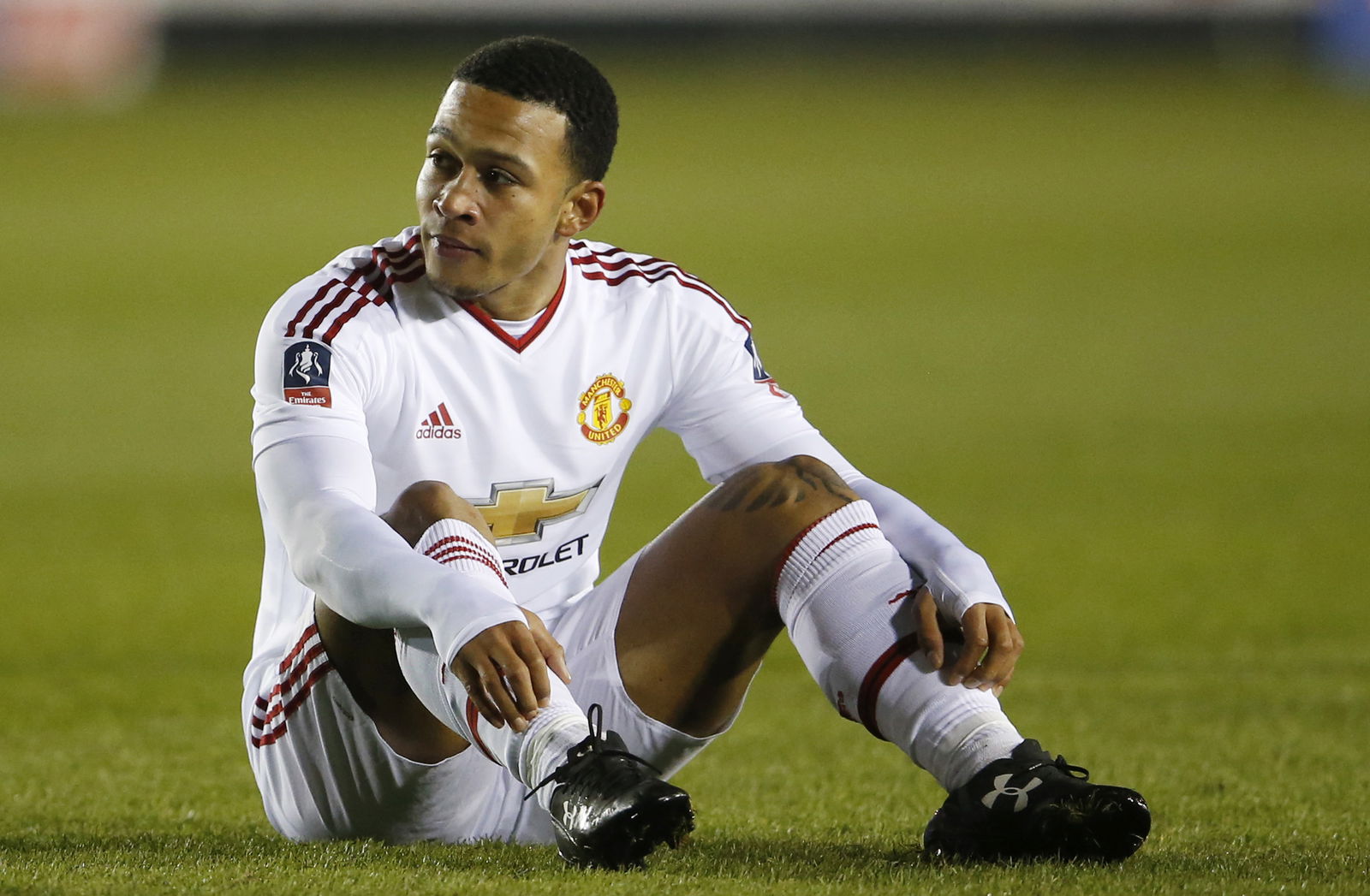 Memphis Depay arrived at Manchester from PSV Eindhoven with a lot of expectations on his back. Taking on the legendary number 7 jersey, of course, many believed that he would be able to replicate, Cristiano Ronaldo.
However, Depay could not transfer his good form with the Dutch national team to the Old Trafford. He endured a difficult first season at Old Trafford and in the next one, made only four substitute appearances under Jose Mourinho.
It was clear the Dutchman was a complete flop at United and in January of 2017, he was sold off to Lyon for €26m. Given the player's age and the potential during his sale, a buy-back clause was inserted into his sale but there isn't much evidence on whether United will ever go back for him.
3. Juan Sebastian Veron – Worst Manchester United Signings Ever
Manchester United signed Juan Sebastian Veron in 2001 for his supposed playmaking ability and physical prowess, making him Premier League's most expensive player at a reported fee of £24.3m.
The Argentine midfielder struck out immediately upon his arrival, failing to adjust to the pace and physicality of the English game. Sir Alex Ferguson was forced to defend the player in the midst of heavy criticism but truthfully, the move was a huge failure.
He was eventually sold off to Chelsea, where he quickly drew the conclusion that he simply was not meant for the Premier League.
2. Angel Di Maria – Worst Manchester United Signings Ever
Angel Di Maria was ranked as one of Europe's top wingers during his time at Real Madrid and his price tag of £60m justifies that statement. It looked like a giant coup by Manchester United during the Argentine's early days as he assisted and scored on a regular basis.
http://https://www.youtube.com/watch?v=urfqlFCaxZI
However, pretty soon his form dipped owing to Louis van Gaal's outdated playing style and a few of the player's issues away from football. After one season, he refused to travel for pre-season and was then sold off to Paris Saint-Germain.
1. Alexis Sanchez – Worst Manchester United Signings Ever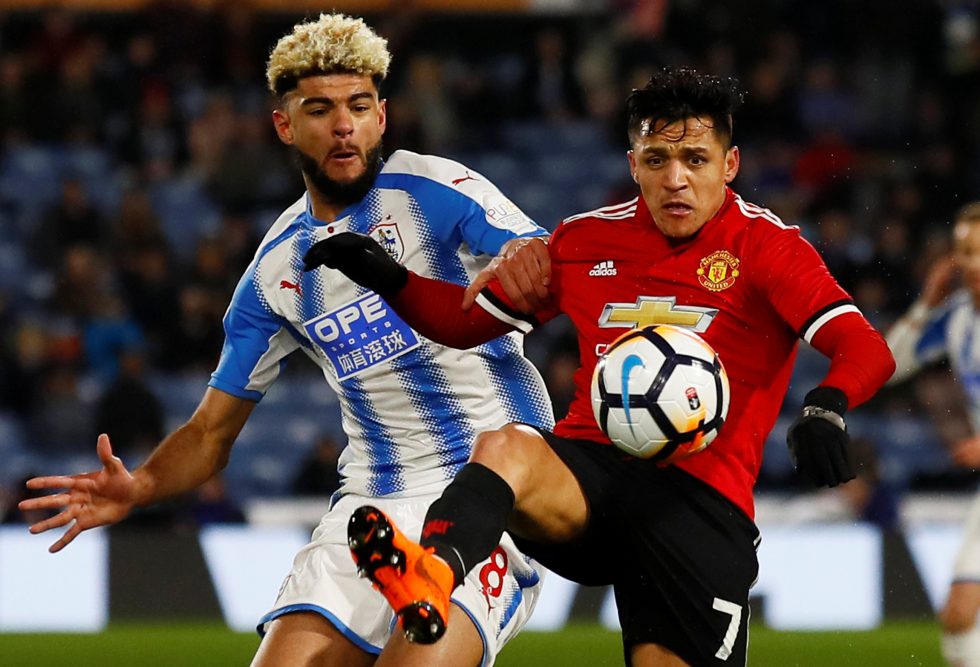 It didn't take long for Alexis Sanchez to be revered as one of the Premier League's very best to being completely detested by the Manchester United fans. The Chilean did not bring on the hate due to any off-field issue but more so because of the fees he collected each week (£500,000) and the performances he delivered.
He could only manage 2 goals in 27 outings during the 2018/19 campaign. The winger's woefully bad displays have forced Ole Gunnar Solskjaer to promote Anthony Martial and Marcus Rashford to the starting lineup over him. United are now ready to get rid of the former Barcelona player in a bid to lighten their wage bill – only problem is, there are no takers.
Manchester United worst signing in the current team
It has to be Paul Pogba.
Paul Pogba –
A debatable inclusion. The French midfielder took some time to hit the ground running but has not found success at Old Trafford. To add to that, a long injury layoff has seen him miss the majority of the 2019/20 campaign, drawing even more speculation regarding his future.
His agent, Mino Raiola initially revealed that Pogba no longer wishes to stay at Old Trafford. This led to a very public feud between Raiola and Ole Gunnar Solskjaer, only increasing the tension between all parties. There are claims that Pogba could end up staying at United due to the ongoing health crisis and his lofty price tag. A partnership between him and Old Trafford sensation, Bruno Fernandes could begin a powerful creative revolution in Manchester.
The playing styles of Pogba and Fernandes clash way too much, which might lead to several differences between the players. Many say this might even cause Pogba to leave.
However, it is all too difficult to say right now after everything that went down this season. Pogba's heart is not fully set with the Red Devils and that could raise further issues in the future.
See Also: